The Importance of Socialization:
Understanding Dog to Dog Communications
Making Friends - Socializing Your Puppy

Siblings and Roommates Don't Count

Dog Parks: The Good, the Bad and the Ugly
Dog-Dog interactions; Aggression or appropriate response?
Which Doggy DayCare is Right for your Dog?
A Shy Dog Blossoms at Trainers Academy

If you use Dog Parks we recommend the following book :



VISITING THE DOG PARK - HAVING FUN, STAYING SAFE
Daycare Pricing:

$30 per day



I'd like a package, please!
Available Packages:
5 days for $140
10 days for $270
20 days for $520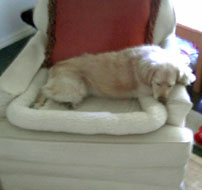 Daycare player Emme after a day of fun at Trainers Academy
Trainers Academy, LLC is the place where dogs are the priority! During a day of DayCare with us, you can be sure that your dog or pup is:
Gaining, and maintaining important dog-dog social skills

Getting some much needed exercise

Having fun! All

in a safe, supervised environment.
Click here to watch an interview with Trainers Academy, LLC President Lisa Patrona.


Click on Miley to see a video of our daycare dogs in action!

Daycare FAQ's

Q: What are your DayCare hours?
A: 6:30am to 6:30pm Monday through Friday.
Q: How old does my puppy need to be to attend your DayCare?
A: Pups can start as soon as they've had a minimum of 2 distemper series vaccines, bordatella, and a fecal check - this may be as early as 8-10 weeks!
Q:
What is the cost for daycare? A:
$30.00 per day. We also offer visit packages, that reduce the daily rate. Please
see the left sidebar of this page for package details.

Q: How do I register for daycare?


A:

Give us a call at 248.588.3222!.



Q: What will my dog's day at daycare be like? A:

We believe that a balance of

play and rest

are important to your dogs physical and behavioral health! Play times last anywhere from 30 minutes to 1 hour each, and are followed by crate/down time for water and a nap! Then it's out for potty and another play group! The cycle repeats a minimum 4 times per day - sometimes 5 times. Play groups start at 8:30 and rotate as outlined above, until 4pm.

Q: What vaccines does my dog need for daycare? A:

For pups *under 6 months of age we require veterinary record of; a minimum of 2 distemper series vaccines, bordatella, and a fecal check current within the past 90 days.

For dogs *6 months of age and older we require veterinary record of; current distemper series, bordatella, rabies, and a fecal check that is current within the past 90 days.


Q: If my pup/dog needs medication, can you give it to him/her?
A:
Yes, provide us with the medication and clear instructions and we'll be happy to do that for you.
Q: I feed my dog a lunch, can I bring it for you to give him/her?

A:

Sure! Just bring your dog's lunch ration in a well-marked container.

Q: My dog has been dismissed from another daycare place. Will you accept him/her in your program?
A: We get these calls a lot, so you're not alone! We'll need to speak to your directly to get the specifics, but most dogs can socialize properly when paired with the correct dog/s for his or her play style. Properly assessing your dogs social skills -- or limitations makes all the difference.

A note from one of our happy DayCare customers:
"I can't say enough about Trainers Academy. I have had the experience of both daycare & now the Intermediate class & can not say enough good things. Max is a shy dog by nature who is scared of new dogs & my vet recommended daycare for him. I called & they got him started right away & made me comfortable about leaving him. They started him off very slowly w/dogs who would help build Max's confidence. After a few weeks he was able to start to play in larger play groups. One day we were at the vet getting ready to leave & there was another dog at the counter, so I was waiting down the hall so Max would not start to bark at that dog. All of a sudden he started to whine & and tried to drag me towards the counter. I couldn't figure out what he was up to until I saw the dog at the counter, it was a dog that he would play with at daycare. Max knew him & was trying to get over for a visit. I know that they will never put him in a situation where he is uncomfortable." ~ Jessica Aumack and Max
Winnie after a day at Trainers Academy daycare. A tired dog is a good dog!
~Ellen Marshall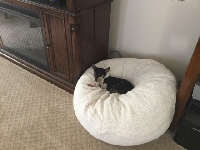 Little Ziva after a play day at Trainers Academy!€
~Stephen Schmoock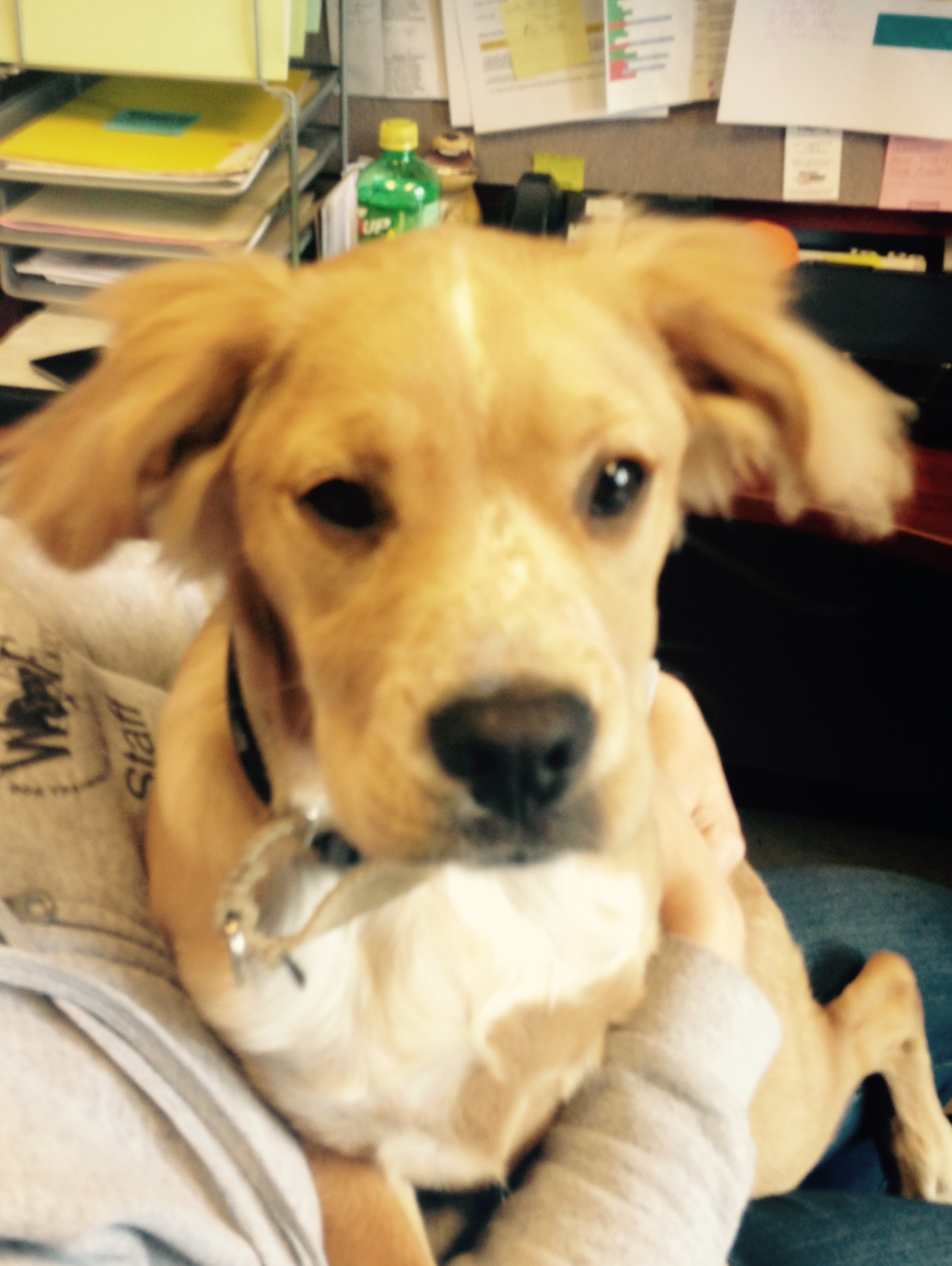 "Hi all at Trainer's Academy/Woofology,
We just completed puppy training classes with Sue and her team last week at your place and wanted to thank you all for all your help and guidance in training my puppy Bella. When we started there, Bella was an extremely shy puppy who was very scared of both dogs and people. The very first class Sue assured me and my husband to just give Bella some time with those classes and be patient and that she would come out of her shell. I was not very sure of that, having seen her being so reluctant to even get close to any of the other puppies in her class. But we kept listening to the training team and their advice and did what they suggested us to do. One of Sue's suggestion was to start putting Bella in day-care to help her with her socialization further. We started that as well. By week 3, we started seeing huge improvements in Bella's socialization skills. The staff at your day-care has been so wonderful and nice to her and has contributed so much towards developing her socialization skills. Today Bella is such an outgoing puppy who plays with all kinds of dogs and people. I cannot believe the transformation I've seen in her. Sue has very aptly named her "party girl" :). The same puppy who refused to come out from under our chairs in week 1 and 2 at your class, now wants to play with every dog in sight! I cannot thank all of you enough for that :).
Even though her puppy classes have come to an end and your daycare is a little out of our way, we continue to take her there because she loves it there and I am very comfortable leaving her with your awesome daycare staff.
I especially want to thank Sue and her team for being so patient and so encouraging with her (and me). Thanks to them, and to the daycare staff, I have a completely transformed puppy. So, thank you so much for all your help and effort. And keep doing the great work you all do with dogs and pet parents!"

Which Doggy DayCare is Right for your Dog?
Who will my dog play with?
Play groups are organized by a dog's play style and comfort level/social history to start. From there, close monitoring and updates in your dogs play groups are made as appropriate. We determine which dog(s) he/she will meet first, by the information we gather from you when you call to register.
The Trainers Academy, LLC Daycare Ambassadors
These are dogs with very special gifts…"experts" when it comes to dog-dog communication!

Mina Dobish

Mina is a German Shepherd who joined the Trainers Academy family in April of 2012 when she was just 12 weeks old. She won our 2012 Back to School photo contest and was featured as "Ms. September" in our 2013 calendar. Mina is a graduate of our puppy & intermediate classes and is a regular at daycare. She is often called upon to help show new-comers that there's nothing to fear as she gently interacts with those pups and dogs who may be a bit shy. She has a great time running around and playing in high energy groups too! Mina is a total sweetie with dogs and people alike.

Thank you to the Dobish family for sharing Mina with us, and congratulations on raising such a wonderful dog!



Sprocket Weigang

Sprocket, a Golden Retriever, joined the Trainers' family in September 2012, after being referred by the family of another of our DayCare Ambassador's. We quickly realized that he had that special something too. Sprocket is a regular Thursday, Friday daycare player, where he has a blast with a wide array of dogs! Sprocket has a very playful & radiant personality and dogs (& people!) can't help but be drawn to him.

Congratulations Weigang family! Thank you for sharing Sprocket with us (and thank you Stewart family for sending him our way!)



Moose Baustert

Moose, a Labradoodle, has been a member of the Trainers Academy family since May 2010, when he was just 4 months old! He attends daycare regularly and has shown the special ability to play with all sorts of dog personalities! Moose shows great patience with shy dogs too and is frequently chosen to help them learn that other dogs are safe to play with. He's got so many friends, the question isn't "Who has he played with?" it's "Who hasn't he played with?!"

Congratulations to the Baustert family for raising such a great dog! And thank you for sharing him with us!



Kima Guyer

Kima, a Goldendoodle, joined the Trainers' family in February 2012 and quickly showed us that she was meant to be an Ambassador! She just turned a year old in September of 2012, but she already possesses the ability to read and understand the body language of other dogs, and to adjust her approach and play style to facilitate relaxed, prosocial interaction with all the dogs she meets! Kima has lots of energy and can be found in multiple groups with a wide variety of dogs each day -ranging from a rambunctious group of ruff and tumblers, to a quiet meeting with a shy dog who's just learning how to be comfortable with other dogs.

Thanks to the Guyer family for sharing Kima with us and congratulations, you've done a wonderful job helping Kima become an amazing dog!



Tucker Keberlien

Tucker is an Australian Shepherd who is stunningly handsome, with a personality to match! His adorable pictures have won our 2010 Halloween party and 2011 Luau party photo contests, which earned him a spot in both our 2011 and 2012 calendars.


Tucker's play card is always full! He has so many friends, and he's always ready to show just about any dog how to have a great time in play! If you bring your dog for DayCare regularly, chances are that they've played with him!

We're so happy that Tucker is part of our DayCare family. Congratulations to Chris Keberlien for doing such an outstanding job training and socializing Tucker!


Libby Woolley

Libby is a Yorkie/Poodle cross who is cute as a button! Libby is owned by one of our volunteer training coaches, Teri Woolley. Libby has attended our puppy and intermediate classes and is, of course, a regular daycare attendee. Libby's laid back personality helps put nervous dogs at ease and let's them choose when to engage in play.We're so thankful to Teri for sharing Libby with us!

Congratulations Teri for raising such a wonderful dog!



Lexie Schrier


Lexie Schrier, a Standard Schnauzer has been part of the Trainers Academy family since June 2010. A graduate of our Puppy, Intermediate and Advanced classes, Lexie is an invaluable member to our daycare family who steals the heart of everyone she meets, canine and human alike. An affectionate playful little girl, Lexie can put even the most nervous dogs at ease. She possesses an amazing ability to bring the playful puppy out of the most unsocialized dogs. She loves to chase her friends all over the play floor and with her grey and white fur flying it is easy to see why the daycare staff has affectionately nick-named her "Salt and Pepper Shaker". We are so lucky to have her "Shaking Her Tail Feather" all over our play floor.



Doodle Cornecelli


Doodle came to Trainer's Academy through behavioral consultations with Trainer's Academy's President, Lisa Patrona. She had serious sensitivity issues. Doodle's owner worked diligently with Lisa, and the daycare staff, to help her become a more confident dog. The result? Doodle, the mini Labradoodle, has been named a Trainer's Academy Daycare Ambassador for 2010! She is very playful, loves her pals in daycare, and helps other dogs who have confidence issues. We are very proud of Doodle-Bug and congratulate the Cornecelli family for never giving up or losing faith in her.


Scout Stewart


Scout has been with Trainer's Academy since he was a little guy. His personality just radiates "Come on guys...let's have some fun". This is why Scout has been named a Daycare Ambassador for 2010. This English Setter is good natured enough to play with any dog or puppy that comes into daycare. Regardless of the playing style of any other dog...Scout can and will adapt. He is also a graduate of Trainer's Academy's Obedience Classes. We look forward to a long and happy future with Scout. Congratulations to the Stewart family. You have a wonderful dog!


Napa Fitzgerald (pictured with Finnegan)

Napa is a Weimaraner with a beautiful disposition and the keen ability to send all the proper doggy signals to other dogs and puppies. If a dog is timid and shy when it first comes to Trainer's Academy, Napa will do her best to put that dog at ease. There is a very good chance that when your dog comes to daycare on it's first day....he/she will be introduced to Napa. Congratulations to the Fitzgerald Family for doing such a great job with her, and trusting us with the honor of caring for her here at DayCare!

These very special Ambassadors have crossed over the Rainbow Bridge and are no doubt continuing their ambassador work while they wait for their humans.

You can click on each of their pictures to view a short video tribute to each dog.